Graveslab Photography
Like all graveyards, many of the gravestones in Ballyhennan graveyard are largely or totally illegible because they are covered in moss or lichens, or because the surface of the stone has flaked away. Frustrating though it may seem, it isn't always a good idea to scrape away the moss, because this could damage the stone even more.
However, Reflectance Transformation Imaging (RTI) and photogrammetry are a couple of clever techniques that can be used to reveal hidden details, allowing inscriptions to be read and recorded before they deteriorate further. The techniques could even be used to monitor the decay of gravestones or other monuments, so alerting people to the need to act to preserve them.
The software required for RTI is freely downloadable:
RTI Builder and RTIViewer, and PTM Fitter
We hosted a free workshop on Digital Photography Techniques for Imaging Gravestones by stone conservator Clara Molina Sánchez (Spectrum Heritage), supported by Mhairi Maxwell (ACCORD Project) and stonemason Magda. Clara recently completed a Masters in Heritage Visualisation at Glasgow School of Art and we're hugely grateful to her for sharing these techniques with our community.
Here's a 'before and after' example of photogrammetry, all done without any scraping or cleaning the stone!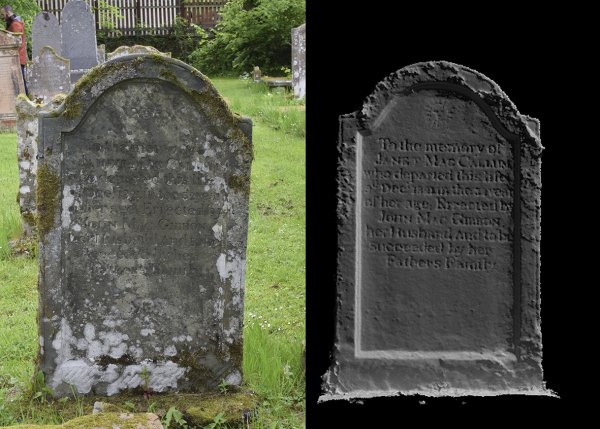 Click on the images on the left for some more examples.